Chris Jessie's

Weather Wrap...
11:30am - Wednesday, April 5th, 2017
Hail Is Highest Threat For Severe Storms This Afternoon And Evening…
We've really turned up the concern for severe weather over the last 12 hours. All the ingredients for large-scale supercell activity are coming together for a significant event this afternoon into evening. This will be an event where multiple cells of storms develop and track. This will NOT be an event where everyone gets hit as a line moves through (though a line may form later into the evening further to the north/east). Again… The front will likely produce worrisome supercell thunderstorms.
The NWS conference call just concluded and forecasters at the Louisville office commented on scale of 1-10 indicating seriousness, they would predict this event to be along the magnitude of 8.
Expect storms to start popping up west and south by mid-afternoon. They will develop and rapidly become strong/severe as they swiftly track northeast.
<![if !vml]>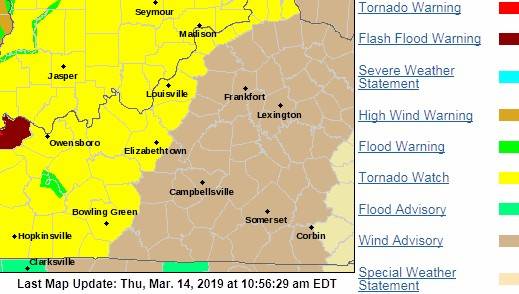 <![endif]>
The highest threat within these storms will be hail… large hail. The atmosphere setup is very ripe.
Certainly microbursts can produce damaging winds, but larger/stronger tornados are also possible as these storms develop and track across the area. With supercells, we are likely to see stronger tornados that last longer.
Since storms will be more scattered as opposed to a solid line, keep an eye on radar and be alert for quick warnings. Development will happen quickly. If you are in the path of a developing storm, anticipate it becoming severe and take precautions. Make sure you and those around you know what to do and where to go during a tornado.
NWS forecasts anticipate coverage of storms to be over about 40% of the area. Not everyone will get storms. This is why it is important to be on alert this afternoon into evening. Complicating matters, many of the south-central counties will likely be hit as we conclude afternoon drive-time. Hail is a serious issue while driving. Motorists should check forecasts/radar sources before starting a route to your destination.
-Chris
7am - Friday, March 10th, 2017
Some winter precip but not all that cold...
While adjustments will be made to the forecast over the next 25 hours, we have a much better idea on this weekend's snow potential. As mentioned in my most recent post, some forecasters really jumped the gun on promoting this storm.
In quick summary, some accumulation of snow is likely late Saturday across Western and Southern Kentucky. The path of this low is way further south than most forecasts indicated early this week. I'd say a couple inches is a good starting bid. It's going to be cold but not really cold. Mid 20s will catch most of us on Saturday night. NWS has issued freeze warnings. This is slightly unusual for this time of the year. These temperatures normally wouldn't trigger a freeze warning. But sensitive vegetation which has already started the spring cycle could definitely be damaged. So, don't read into the warning being for extremely cold temperatures... Not the case.
<![if !vml]>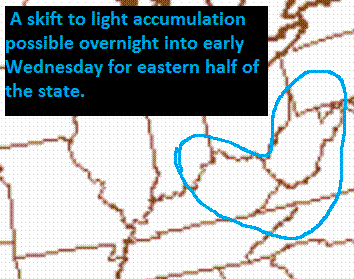 <![endif]>
We're going to see a couple of additional chances for snow showers into next week.
I'll post an update later this afternoon and we'll see if any path movement on the models makes any significant differences in the forecast.
-Chris
9am - Wednesday, March 8th, 2017
Forecasters Seem Anxious… Say It Ain't "sNOw"?
We've all been exposed to this weekend's potential, but here's a quick reminder that northern areas are at risk for a light winter event early Friday, too.
Before getting too worked up… Keep in mind the weekend outlook is still very preliminary. 84 hours is way out in terms of specific forecasting. Until sometime Thursday, the main component of this system isn't even on the map yet. There are a lot of variables – and at this point, forecasts for Saturday/Sunday are based on features that are yet to be measured. Thursday afternoon is when I plan on either buying or selling my bread/milk stock. Confidence in the forecast (whatever it is at that time) should be much higher. At this point, I'm not posting any maps.
Given my disclaimer… here's what the current model data anticipates. Significant precipitation is expected over the general region late Saturday into Sunday. The northern sector of the low will support snow. I can say this with high confidence – We're not gonna see frigid temperatures. Whatever falls and wherever it falls, should be very treatable/workable for road crews.
The basic takeaway as of Mid-day Wednesday should be this: Accumulating snow may be possible PM Saturday / AM Sunday, even with warmer temperatures. Snow rates could be enough to overcome above average ground temperatures, but any accumulation won't be hanging around for a prolonged period.
Forecasters are all racing to be first, especially media forecasters. But, without real measurements on some of the important variables, any source offering specific forecasts is really giving a hopeful guess.
It will be interesting to see how everything comes together Thursday. We should start seeing some preliminary commentary from NWS offices and see their thinking. Models should start showing consistency once measurements from out west are available.
More posts are certainly coming. Stay with me.
-Chris
2pm - Tuesday, February 28th, 2017
Severe Storm Forecast Update…
It's still February. We have to try remembering that! Blooming flowers and trees, warm temps and storms have made it easy to forget.
Tonight will present a challenging forecast to pinpoint, though confidence is pretty good that strong to severe storms will affect our general region. The NWS conference call from just a little while ago backed up what most forecasts have been saying. Multiple rounds of storms are likely. We had a round this morning that provided mostly heavy rain along with small hail and lightening, especially in the northern sections of our area. Tonight, we will see the atmosphere uncap and strong individual storms will likely develop in West Kentucky/So. Illinois/So. Indiana. As the cold front pushes through, a line will likely form from Tennessee into Kentucky ahead of the boundary through morning Drive.
Hail is a primary threat for all of these, tornadic activity will be more likely with the supercell storm clusters and then straight-line winds will be a threat along any developing squall line. Flooding will be a concern for the duration.
So – Who, when and what's the threat. The NWS visuals from the conference call make for the best description.
<![if !vml]>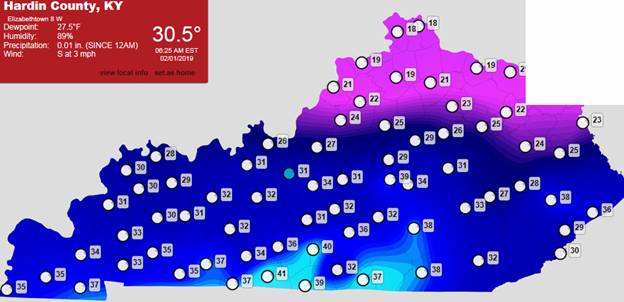 <![endif]>
<![if !vml]>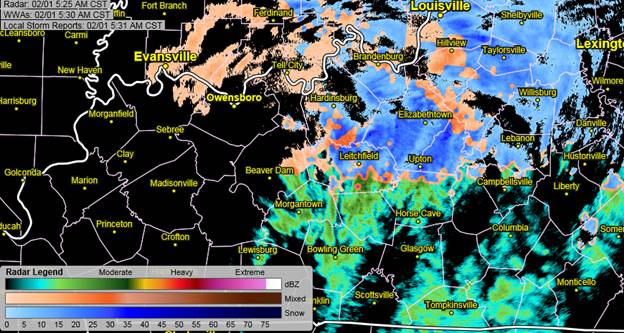 <![endif]>
<![if !vml]>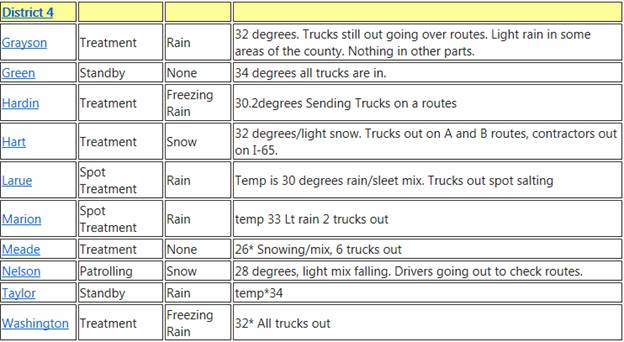 <![endif]>
I'll do a quick post this evening.
-Chris
10:30am - Wednesday, February 8th, 2017
Early Thursday Winter Precip Possibilities...
Warmer than normal conditions continue to be the story of recent weeks. A brief cold snap will affect our region overnight and Thursday before we warm up again for the weekend. A system pushing through the upper plains will scoot across Illinois and Indiana this afternoon/evening and a potent but quick moving low will develop just to our east and track up the coast, bringing heavy snow for New England.
We're sort of caught in the middle… There won't be a lot of moisture for our area once temperatures drop overnight, but there could be just enough freezing drizzle and light snow shower activity to cause isolated slick spots on area roads early Thursday morning.
Here is a snapshot of future radar (midnight, tonight) showing light frozen precip in northern counties of our region. Eastern Kentucky will see more precip.
<![if !vml]>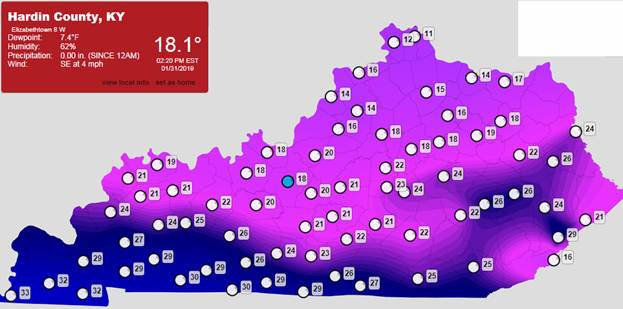 <![endif]>
The backside edge of frozen precip will drop south and east through the early morning hours as the low to our east develops, setting the stage for a major snowstorm for the upper east coast.
Again… Locally, a few slick spots are possible as temperatures drop into the upper 20s. Ground temps are quite warm, so widespread problems are not expected unless the developing setup changes and shows more moisture within the next model runs which we'll see in just a couple of hours.
For comparison, here is the 2am future radar map.
<![if !vml]>

<![endif]>
Thursday highs will be just above freezing and then we're back to near 50 Friday and into the 60s with rain for the weekend.
An absence of cold air has really been the story for this winter. Looking head (long range), we may see a quick cold snap late next week (around the 17th), but there is no indication of a deep trough in the upper levels getting this far south. There are a couple of significant weather systems indicated for our area, they will simply be rain.
If changes come in this afternoon, I'll re-post.
-Chris
5pm - Sunday, January 29th, 2017
Quick Update...
Snow shower development continues through southern Indiana, north-central, central and eastern Kentucky and should last through the evening, diminishing northwest to southeast through early morning. Temperatures have held in the mid-upper 30s even through sunset, so everything so far has only resulted in a coating followed by wet roads and melting on grassy areas. Keep a close eye on radar… current image:
<![if !vml]>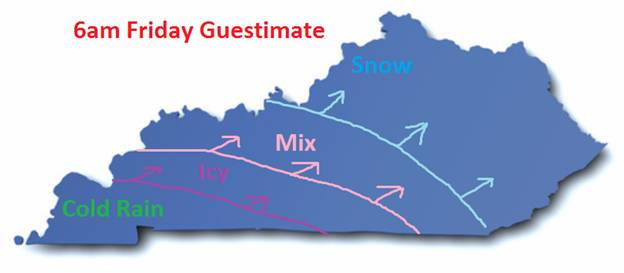 <![endif]>
Radar does only a so-so job with snow as you get further from the radar source, but some heavier snow showers are north of us into Indiana and even south of us, where several 1" reports have come in from Tennessee.
With temps falling, we still expect rounds of snow showers to produce dustings and even light accumulations of around an inch, especially east of I65. Icy spots and partially coated roads will be possible under persistent showers through the evening, creating the potential for a few slick spots for the morning commute.
Looking ahead, temps will stay above freezing through mid/late week and we'll even see the 50s return. Another disturbance will bring us a shot at rain/snow on Thursday into Friday.
We'll keep an eye on it.
-Chris
4pm - Saturday, January 28th, 2017
Weekend Outlook...
Looking at the latest forecast guidance for the system affecting our region over the next 24 hours, there simply isn't an impressive amount of moisture associated with the disturbance. Still, a Winter Weather Advisory has been issued for eastern and southern counties in our region:
<![if !vml]>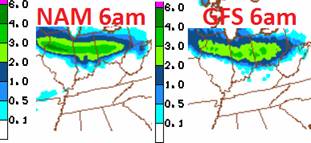 <![endif]>
Snow amounts will be spread out between late tonight and evening on Sunday. Total snow amounts for the ENTIRE system are likely to be around 1 inch for most of our area. BUT… that amount will be coming in the form of multiple passing showers and not from a continual duration of snow. With temperatures above freezing through the day, road issues are not expected to be a problem on Sunday. The question will be for any snow that falls late afternoon into Sunday evening as temperatures fall. Even with them falling below freezing, it's not going to be extremely cold. Some melting could still take place overnight on roads that get treated on Sunday afternoon.
Here is the latest NWS total snowfall forecast, which should be on target.
<![if !vml]>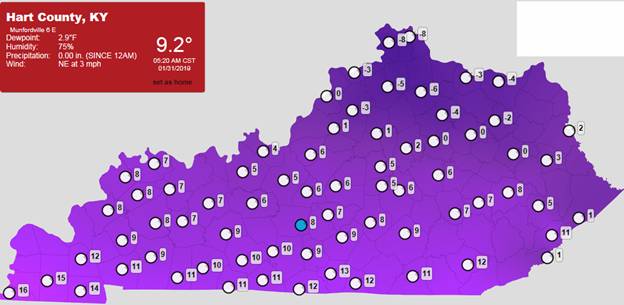 <![endif]>
Snow bands will advance from north/western counties, moving south/east. Areas east of I65 have a higher accumulation potential.
Just as with the system a couple of weeks ago, the forecast could certainly be revised after seeing the initial development of snow bands. Persistent bands could definitely make localized totals higher than forecast amounts.
I will update the page on Sunday morning with the latest forecast.
-Chris
3pm - Friday, January 27th, 2017
Weekend Outlook...
Now that we're spoiled from the crazy number of 60+ degree days for January, it feels more like it should outdoors. Just like this morning, there are chances of snow shower activity spread out through Monday morning. Tonight and Sunday afternoon will feature brief snow "powderings". No accumulations are expected.
The best chance of any accumulating snow will be later Sunday through early Monday morning. Timing is still a little questionable but there will not be a huge amount of moisture. Everything is sagging down from the upper-midwest. There's no influence from the south. We've not experienced any Gulf tapping winter systems this season and without a good source of moisture, a lot of snow just doesn't usually happen in this part of the Ohio Valley. Much like a couple weeks ago, snow across the area will be inconsistent from county to county. We'll try to pinpoint a little more detail on expected areas when I send out an update Saturday midday-afternoonish.
While it is chilly, it's not all that cold. We're going to end up with a very warm average temperature for the month and we're close to normal for the next few days but we're not looking at record lows by any means. With breezes blowing, it will feel colder than actual temperatures.
Again, look for a more detailed outlook in the next post.
-Chris
3pm - Friday, January 6th, 2017
Wrap-up Update...
The story now goes from snow to cold. We didn't break 20 here today, so the high temp forecast was over. Near zero lows will cover the region tonight with below zero wind chil temps. Saturday will be only slightly warmer than today in comparing how it feels outside. Upper 20s Sunday and back to 40 on Monday and 50+ on Tuesday along with a shot of snow showers or rain Monday night into Tuesday. On a personal note... Wish I could get to Gatlinburg this afternoon for about 3-7" of Smoky Mountain Snow over the next 24 hours. We drove through a major snow storm on our way down there a few years back and it was one of my favorite trips ever! A heavy, wet snow just provided a beautiful backdrop as we walked down the street...
<![if !vml]>
<![endif]>
Ok... Looking ahead, mostly normal conditions will be in store for the middle and end of next week. As we head into next weekend, there is a classic Ohio Valley warm/cold struggle setup taking shape. Way too soon to talk about the specific impacts but we'll be watching Fri/Sat with high interest over the next several model runs.
Stay warm and enjoy the weekend.
-Chris
7am - Friday, January 6th, 2017
Quick Update…
Lingering snow showers today could still make quick dustings.
Cold temps will be the story for the next day or so with lower 20s today and
mid-lower single digit lows overnight. Saturday highs are also likely to be in the
lower 20s.

To the south, the storm system expecting to bring heavy snows to Alabama, Georgia
and the Carolinas will also keep snow shower chances alive for the southern half of
our area through this evening. Nothing major here but still, dustings will be
possible so travel caution is advised.

As for road conditions, most roads are partially covered this morning. Around 1-2
inches of new accumulation fell Thursday evening over most of the area. Crews
plowed until around midnight and then returned this morning to salt.

I'll do a post midday looking ahead.

-Chris
8pm - Thursday, January 5th, 2017
Quick Update…
Heaviest snow is moving out of our area. A few light snow showers may sweep through overnight. Outside of a new dusting, what is on the ground now should be all that we get. Most of the area is currently in the lower twenties. With a light snow coating on we will likely fall into the lower teens by morning. A few areas may make it down into single-digit readings. Most of the area has received about 1-2 inches this evening.
Road crews will plow until around midnight. They will return around daybreak to treat for the morning commute.
I will post a wrap-up and a look ahead in the morning.
-Chris
1:30pm - Thursday, January 5th, 2017
Snow afternoon quick update…
Snow across most of the area has dissipated but new bands are forming along the Ohio River in Meade/Breckinridge County as well as Louisville. We'll see how they develop further down into Kentucky as the afternoon progresses. As we've expected all along, most roads in our area are now simply wet. Drivers should be very aware of freezing conditions as we head into late afternoon and overnight. Current temps are in the mid 20s, a couple of degrees lower than forecasts, but we are starting to go down and road conditions will become icy from either new precipitation or from currently melted snow re-freezing. Radar will be our close friend over the next few hours.
<![if !vml]>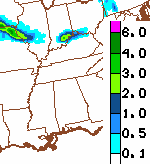 <![endif]>
-Chris
10:30am - Thursday, January 5th, 2017
Snow continued…
So, timing of precipitation this morning was ahead of most forecasts (including mine :/ ). Still, as expected most roads were coated briefly as showers passed and are melting with only a few minor problems reported. The forecast zone shifted about 30 miles south or so. A lot of radar action showed up early which was not reaching ground, but once saturation occurred to ground level, moderate bands of snow showers QUICKLY developed all over our region. Many were early enough to catch this morning's commute which was not expected this far south and east… See the NWS graphic from overnight which was pretty consistent with most forecasters.
<![if !vml]>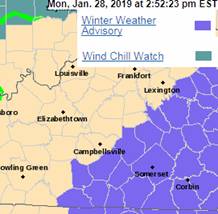 <![endif]>
Current Radar – You can easily see the flare up and diminish of snow showers over the loop.
<![if !vml]>
<![endif]>
We expect to see off/on snow showers through the day but as previously mentioned, daytime conditions will help greatly. Most roads will continue melting soon after becoming coated. Afternoon drive and tonight will be a different story and a more difficult challenge if snow continues to fall at that point. Adjusted forecast models suggest banding of snow showers developing as late as 3am across our area into Friday morning. No wet roads are expected Friday morning because all of whatever moisture is out there will be ice or snow. Slick roads are likely.
While we continue battling this snow event, I still feel it is relevant to mention late Friday/Saturday. The snow path for the southern system continues to creep north and a couple of the models are now showing snow potential for the far southern and eastern parts of Kentucky. Let's see what the 12z models have in them.
-Chris
2:30pm - Wednesday, January 4th, 2017
Snow hype update...
After a few phone discussions today, I realized some of you were missed on recent eMail blasts of the weather post. Sorry about that! I retrieved the original distribution list and everyone should be back on it. If you know of anyone who would like to be included, please reply and let me know to add them. Now --- on with the snow… I mean show.
To start, NWS Louisville has just issued their snow advisory for this system, effective through 6am Friday. Media meteorologists have been overplaying this storm and NWS forecasts have been more patient.
<![if !vml]>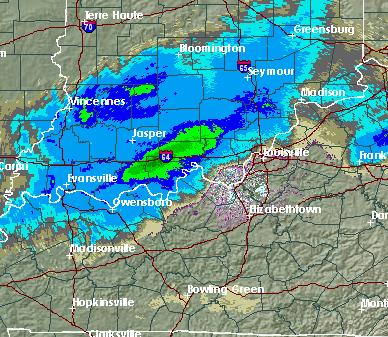 <![endif]>
Since yesterday's post, some shuffling has taken place on placement of moisture within the forecast maps, mostly in the Thursday afternoon/evening timing window.
As mentioned yesterday, we are still looking at the bulk of Thursday morning and mid-day precip being along the Owensboro to Ashland line, which is basically north of the WK and Bluegrass Parkway corridors. Areas to the south may see some lighter snow activity mid-day, but heavier action will be north.
<![if !vml]>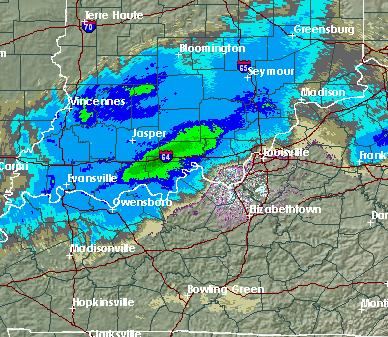 <![endif]>
Also as mentioned yesterday, road crews have some things working in their favor. Even though it may be cloudy, it is very surprising how much solar energy cuts through. Roads (asphalt, in particular) will use that "solar leak", helping increase surface temperatures. Salt and calcium treatments combined with regular day-time traffic should keep most routes in decent shape for most of Thursday with highs expected in the upper 20s. Road crews are out today pre-treating lower volume roads (C routes) with brine. Travel impacts will likely become more of a concern for late Thursday afternoon and evening. The challenge will be forecasting how much snow and where will it fall after about 3-4pm as things start to tighten up and temps head toward mid-teen readings overnight.
It just so happens, late afternoon and evening is where much of the forecast adjustment is being made from yesterday's maps.
<![if !vml]>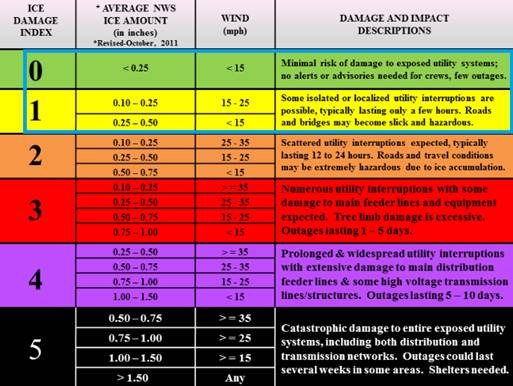 <![endif]>
Yesterday's model runs were showing more scattered snow shower activity but today's runs are more aggressive, indicating a few heavier bands of snow as the system tracks east. Snow showers could last into Friday morning.
So let's string it all together. The total accumulation map is deceiving. It shows the event's entire snow output but without factoring in when the snow falls. Accumulation during the day won't be as impactful as accumulation during the evening. Radar will become most useful tomorrow afternoon and evening to see where bands actually develop. I have split my accumulation forecast accordingly. The first is through about 2/3pm. The second is from late afternoon into evening.
<![if !vml]>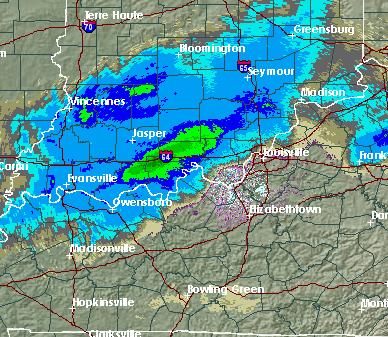 <![endif]> <![if !vml]>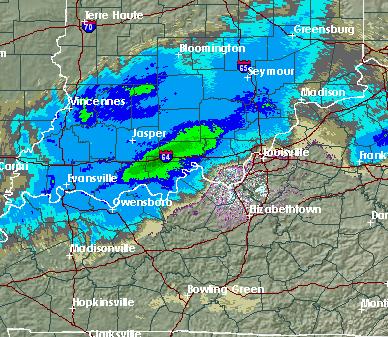 <![endif]>
Again, timing here is very crucial with respect to travel impacts. This isn't going to be a major snow but it's more than my typical "pesky" description. I'll post an update Thursday morning.
A quick mention for Friday late into Saturday. The southern track storm forecast path is shifting a little to the north, but is still looking to affect areas well south of our region --- it still looks like a major southern/eastern snow storm as it exits the eastern coast, perhaps the Carolinas/Virginia.
-Chris
2:30pm - Tuesday, January 3rd, 2017
Snow shots...
Hope the new year is starting good for you folks!
Talk is ramping up in anticipation of a real snow event… but this week probably ain't gonna be it (locally). Let's get basic ideas here:
- Temps will be a-changin'. Bye to this 50 and 60 stuff for a while.
- Wednesday morning, I don't expect to see any problems but between midnight and morning drive, a few snow/sleet showers may pass through as moisture pushes east and temps drop to around 30 by daybreak. An isolated slick spot is not out of the question.
- There are a couple of chances for snow showers as we finish out this week but it looks like most of our region of the state will be in the middle of the two passing snow paths. We may see pesky amounts on Thursday morning/midday, especially around the Ohio River region. Friday night, chances will be more likely to our south and east.
The northern system on Thursday will have a tough time spreading moisture down-state. Snow is more likely from Owensboro to Frankfort to Ashland as seen in the timing graphic below. Each frame is a 3-hour period of possible accumulation, picked out of the NAM model. Timing will also make it more difficult for any accumulation to occur since the bulk of precip is expected during the day – even with temps in the upper 20s.
<![if !vml]>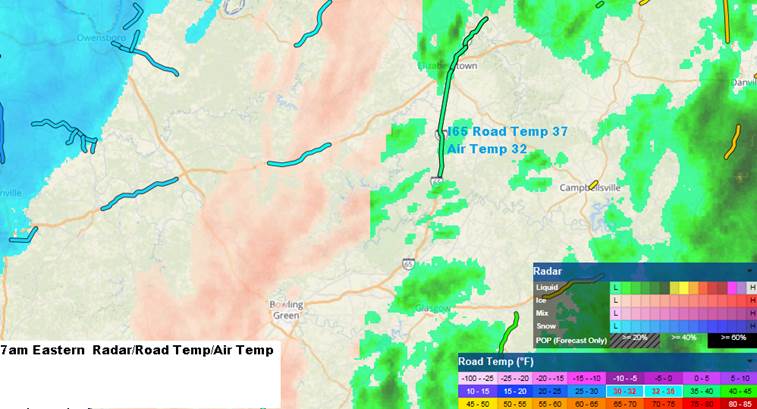 <![endif]>
We'll want to watch the backside as this scoots out Thursday night. It will be cold enough so that anything that falls will be likely to "stick". A quick snow shower at night could certainly provide a quick coating for areas of central/south-central and south-eastern Kentucky.
Looking at a larger system for Friday into Saturday… This one still has some uncertainty with it, BUT ---- At this point everything of concern should be down into Tennessee/Northern Georgia as it ramps up and makes a swing up and out of the eastern US. A shift could greatly alter our forecast, especially for the southern/eastern portions of our area. Quick map glance shows 6pm Friday, which is the outer limit of the current NAM… still, you can see the organization well to the south and it is expected to turn up to the Appalachians into Saturday. It could end up a major snow maker for some of those folks.
<![if !vml]>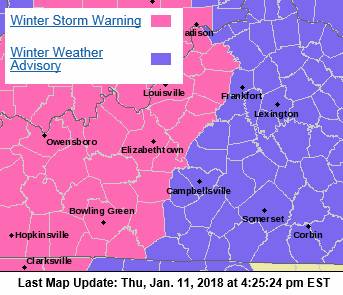 <![endif]>
We'll post more tomorrow or Thursday on the Friday/Saturday system is if it becomes more interesting for our area.
-Chris
11pm - Saturday, December 17th, 2016
Quick update...
Overnight
Rain before 4am, then rain or freezing rain likely between 4am and 5am, then rain likely, possibly mixed with freezing rain and sleet after 5am. Low around 26. Northwest wind around 16 mph, with gusts as high as 24 mph. Chance of precipitation is 100%. Total nighttime ice accumulation of less than a 0.1 of an inch possible. Total nighttime sleet accumulation of less than a half inch possible.
Sunday
A chance of freezing rain, mainly before 7am. Mostly cloudy, with a high near 27. Northwest wind 9 to 14 mph, with gusts as high as 22 mph. Chance of precipitation is 30%.
-Chris
1pm - Saturday, December 17th, 2016
Quick Post...
A Tornado Watch… Really, for most of our area… until 9pm central/10pm eastern. Only in Kentucky… In December. Not a major outbreak, but not to be ruled out.
<![if !vml]>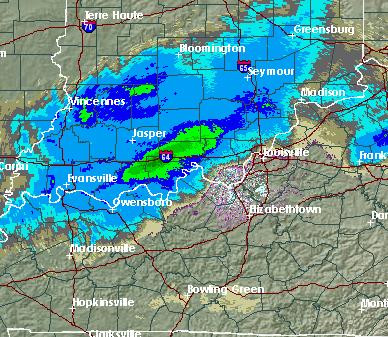 <![endif]>
Rain, breezy and 60 degree weather is not exactly ideal for the final shopping weekend before Christmas (technically). Things will change overnight, as we've all been told. But this is shaping up to be a winter "tease" by Mother Nature. Temps will plunge overnight into Sunday morning. Moisture moves east and dryer/colder air will push in behind. Ground temps are getting a nice warm up today. It's going to be difficult for pavement temps to crash as quickly as air temps, so when we see a changeover to freezing rain and sleet with a snow showers before daybreak on Sunday morning, I only expect a few slick spots on area roads. Puddles will freeze but breezy conditions and evaporation should hold off any significant accumulations. A dusting may be observed. I call these mosquito bite winter systems. They are just enough to put highway crews on alert but not likely to cause any major issues (of course, this does not apply to the guy/gal driving 90 on I65 while precip is coming down).
Looking ahead quickly... another "pesky" system around Thursday. And possibly a more impactful system late Christmas into next Monday??????
-Chris
3pm – Thursday, December 15th, 2016
What's The Deal For This Weekend?
Forecasts since early week have shown the potential for wintry precip this weekend. So, what's the deal? First, let's talk about warming and rain. It's cold today. Louisville recorded a -2 wind chill this morning. We're gonna get into the 50s and even 60s (maybe even close to 70 for the south) for Saturday. Rain… plenty of it. The NAM model is higher resolution than GFS. This system is just now in the latter range of the NAM forecast period. GFS has been showing some resemblance of it for several days. They both show quite a bit of TOTAL precip through Sunday. NAM forecast is first… Notice around the 2" shading for a clip of South-Central Kentucky and West-Central Tennessee.
<![if !vml]>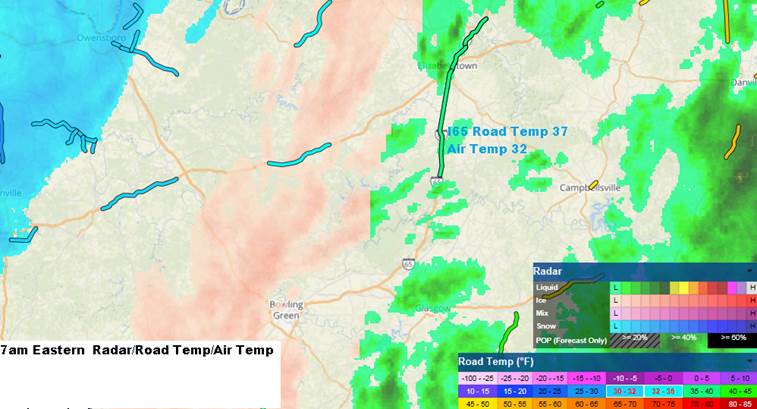 <![endif]>
GFS is somewhat shifted east and south on TOTAL moisture through Sunday, leaving the western portion of Tennessee with much less overall precip in the forecast.
<![if !vml]>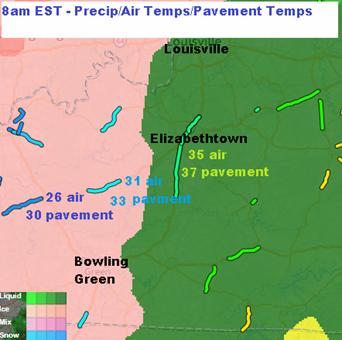 <![endif]>
While both indicate quite a bit of rain across the southeast region of the US, we have a pretty wide difference in the two when it comes down to a pinpoint forecast… and we've not even gotten to the "winter" part of it. Some of our area will likely receive a lot of rain (1 - 2 inches) by late Saturday night.
The talk around town is all centered on what happens early Sunday morning. Models in early winter are often overly aggressive with cold air. We are certainly likely to see temperatures capable of supporting winter precip overnight Saturday. The question is, "how much moisture will hang back west of the cold front?" Here are the side-by-side comparisons of expected changeover time to winter precip. Both indicate around Midnite into Sunday morning. Temps will take a huge dive. NAM left, GFS Right. Don't get caught up in the intensity of the color. It's not a radar estimation. It's only a precip type indicator:
<![if !vml]>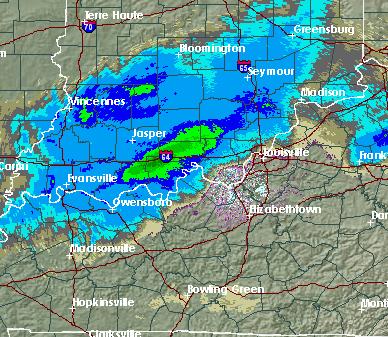 <![endif]>
Again, both have freezing precip lined up along the I65 corridor around midnite. But notice the NAM lack of snow on the backside with sleet and/or some freezing rain much more likely. As model runs continue, I believe the forecast will only show light winter precip here as the moisture pushes east quickly. Southeastern Kentucky is likely to see a better chance of any measureable accumulations.
Friday's data will certainly help solidify the forecast but I'm still not buying my one of my buddy's prediction of a 6" snow… (Norman!)
On a festive note… there is another system of interest just before Christmas and another right after Christmas. I'd hold on to dreaming of a White Christmas for now. It certainly isn't ruled out.
I'll do a quick post on Friday.
-Chris
3pm – Tuesday, November 29th, 2016
Severe Storm Potential Tonight… Then Colder
The first seasonal post of the "winter blog" is about – thunderstorms. While many folks experienced heavy wind and rain Monday night, tonight will contain more of a thunderstorm threat. A low from the southern plains will track east overnight and a lifting warm front will pull plenty of moisture from the south. We're going to have conditions favorable for strong to severe thunderstorms. Northern Mississippi and Alabama, along with Central Tennessee and Southern Kentucky are the regional focus. Wind and torrential rains are main threats. Tornados are not out of the question. Here is the NWS graphic from the conference call that wrapped up just a little bit ago:
I do not think this will be an extremely widespread event, but the fact that severe storm possibilities haven't been showing up as strongly in recent forecasts has prompted heightened attention to the outlook.
The cold front won't actually pass until Wednesday. Temps will be round 20 degrees colder on Thursday than they are today.
Longer term… There have been hints of light wintry mixed precip this weekend for northern/eastern areas but it shouldn't be anything impactful if it stays in the forecast. The GFS long range continues showing indications of an even more significant cold air dip well to the south around the second full week of December. It's still too early to make much out of it at this point, but it could lay the groundwork for our first serious "system of interest" for the year.
-Chris