Chris Jessie's

Weather Wrap...
2pm - Friday, March 11, 2022
Late season snow comments below are from my KYTC media release. It pretty much covers travel impacts of this system... Kind of made-to-order if you are a snow lover. This should be a nice, wet snow for snowman making with kids being out of school on a Saturday morning. With sunshine expected on Saturday, I believe most main routes that end up receiving accumulation will be in pretty good shape by afternoon. Gonna be cold Saturday night but everything should melt away from roads as temps take a high rebound on Sunday. I'm also going to include the NWS maps overview below. Have a good weekend!
-Chris
Crews Ready to Work Late Season Snow Event
Varying conditions likely across the district
ELIZABETHTOWN, Ky. (Mar. 11, 2022) – Crews have been preparing the past couple of days for the anticipated late season snow overnight into Saturday morning. Brine has been strategically applied to many routes. Equipment and supplies are ready for deployment. Counties will respond as precipitation dictates.
With regards to travel impacts, conditions may vary greatly from our western counties to our eastern counties with higher impacts expected east of the I-65 corridor. Timing of this system is working in favor of travel needs and volumes. Overnight and early Saturday are very low compared to peak volume hours of a weekday. Above normal ground temperatures today combined with brine treatments leading into arrival of winter precipitation will aid in crew response. Over the past couple of weeks, daylight hours have been extending, providing additional melting potential for any covered routes on Saturday before temperatures drop Saturday night. Forecasts indicate this this will be a quick event with temperatures rebounding well above freezing by Sunday, helping to resolve winter travel impacts. Still, anyone traveling throughout the district tonight or early Saturday should anticipate snow covered roads based on current forecasts.
Standards for travel during winter weather include:
• Travel only as necessary during major winter weather events. Stock vehicles with ice scrapers, jumper cables, blankets, a flashlight, cell phone charger, non-perishable snacks and first aid kit should you get stranded on the road.
• When snow and/or ice are on roadways, drive slowly no matter what type of vehicle you're in. It takes more time and distance to stop your vehicle in poor weather conditions, so brake early and slowly.
• Pay attention to weather advisories and allow more time to travel for routine commutes.
• Slow down when approaching intersections, off-ramps, bridges or shaded areas. These are all candidates for developing black ice—a thin coating of clear ice that can form on the pavement surface that may be difficult to see.
• Maintain a safe distance from snowplows and other heavy highway equipment and do not pass snowplows on the shoulder.
• While driving, eliminate distractions such as eating or using a phone.
• Abide by Kentucky's Quick Clearance law: Move vehicles to the shoulder in the event of a non-injury crash.
Visit goky.ky.gov for current road conditions. Information specific to District 4 Counties (Breckinridge, Grayson, Green, Hardin, Hart, LaRue, Marion, Meade, Nelson, Taylor and Washington) is posted through social media accounts on Facebook and Twitter: @kytcdistrict4.
###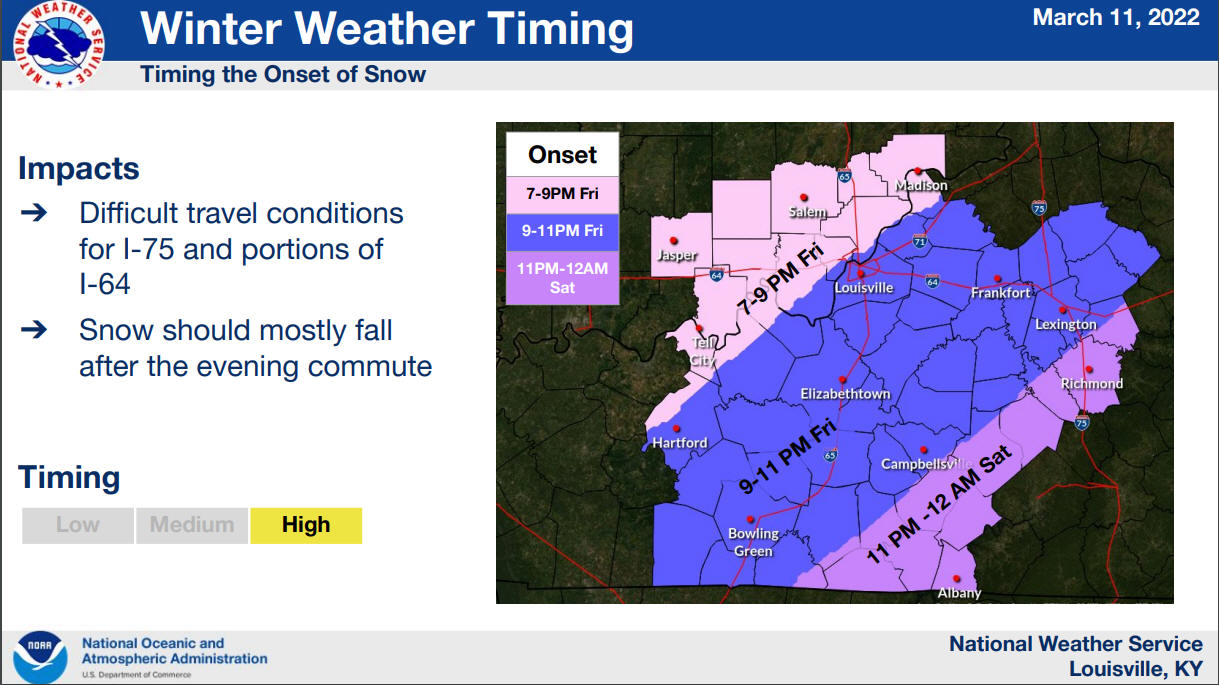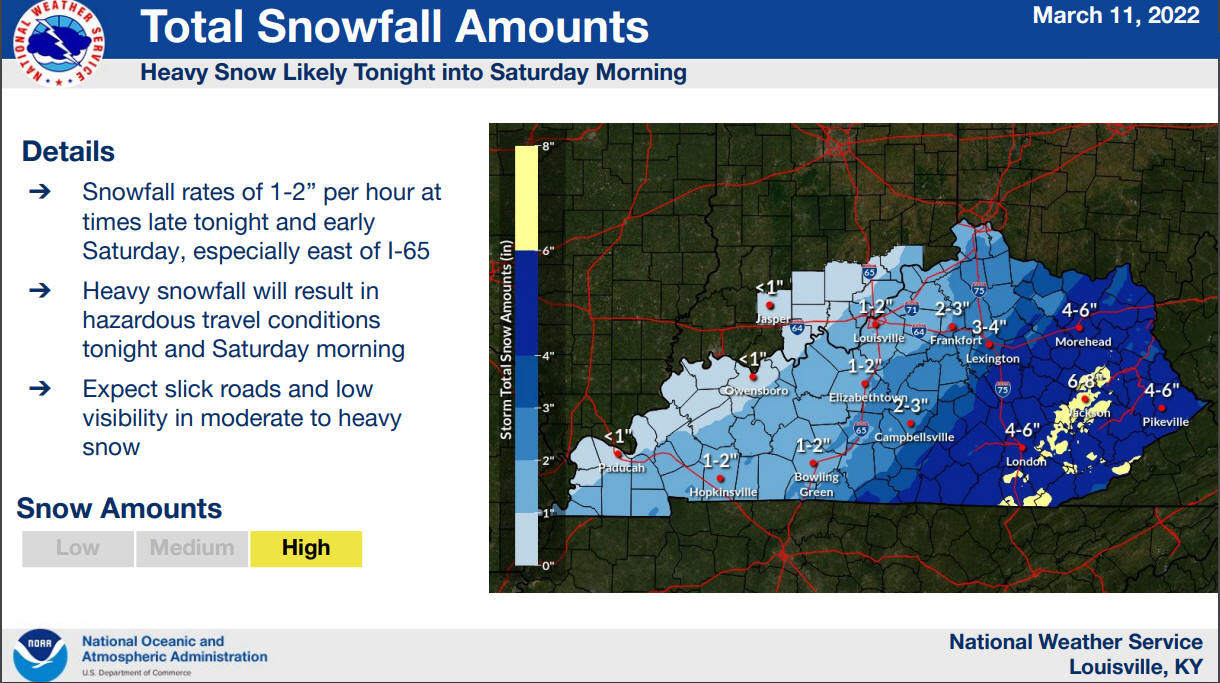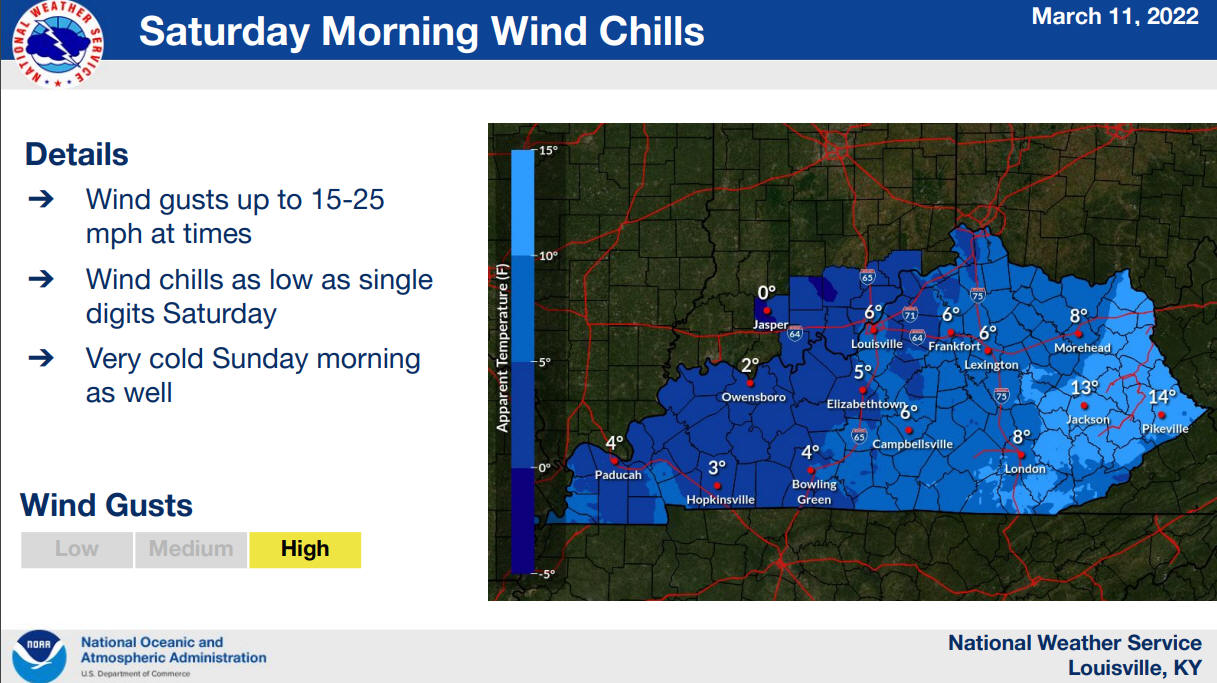 2pm - Thursday, February 3, 2022
Surface air temps at 2pm are holding just above freezing for the I-65 corridor and continue to edge down to our north and west: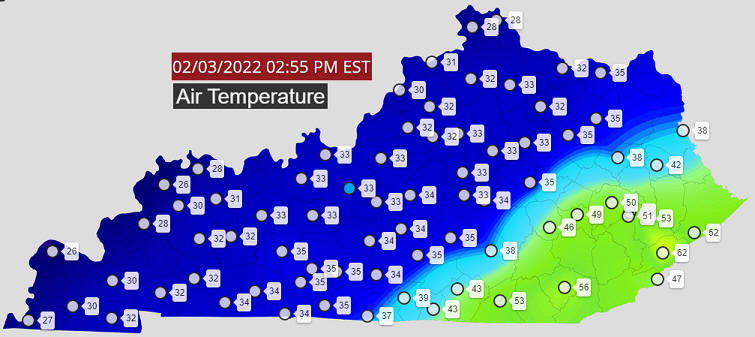 Ground temps with the moisture are holding above air temps. Roads remain wet and there is no observed elevated freezing except for the northern and western portions of our region. Radar has that depicted in the pink as freezing rain with sleet and snow north of that line. Note the storm report note from Western Kentucky where tree and power line damage is being reported: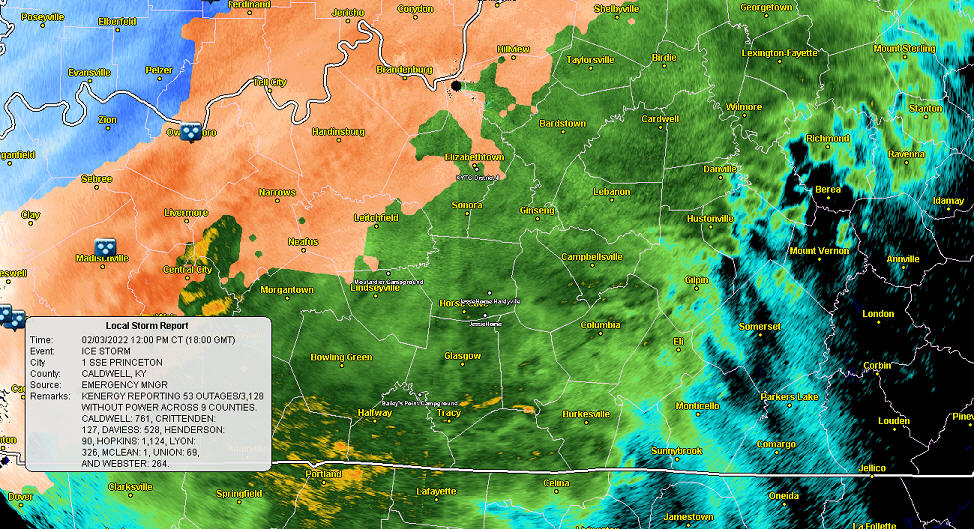 Looking to the next 9-12 hours, the freezing rain band will continue to train along the southwest to northeast, sandwiched between colder and warmer temps. That line sweet spot is still expected to be just south of the Ohio River with a general .5 inch accumulation. The last few forecast cycles have tried to speed up timing and hopefully get all of this out of here a little after midnight. The most significant window for ice accumulation is estimated from around 6pm-3am west to east. Here is ice accumulation estimation for that 9 hour window (6pm-3am):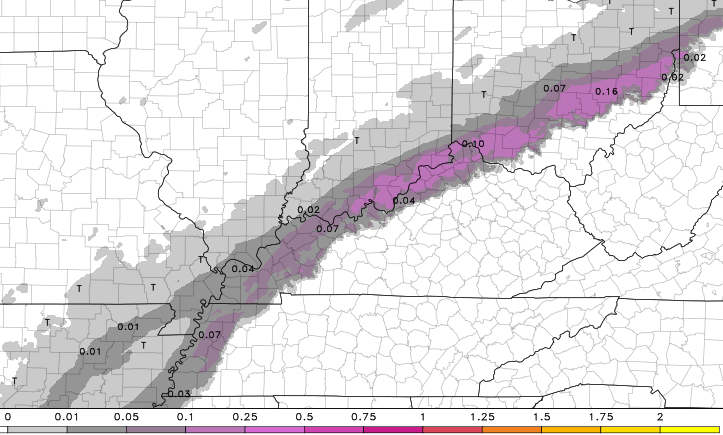 Roads are going to be tricky with respect to the transition from being wet to being a ice glaze. Some crews have been able to lay a slow speed application of salt on the northwestern counties of the region as freezing rain started. With heavy rain going on, getting a salt layer down right ahead of liquid becoming ice is very difficult. There is a small window between it being washed off and being effective.
Sleet and some snow are still on the north side of the sandwich... expect a coating of sleet and/or snow on top of any ice accumulation. This also adds weight to trees and power lines. Amounts look to be light for snow, but a little could be more impacting in this case.
Temps around the freezing mark for a high Friday with lower teens Friday night. Saturday just above freezing and into the 40s Sunday.
-Chris
6am - Wednesday, February 2,2022
The weather system is now on the map down to the southwest. Here is the new warning layout based on the first solid forecast cycle. ...ICE STORM WARNING IN EFFECT FROM 6 AM THURSDAY
TO 6 AM CST FRIDAY...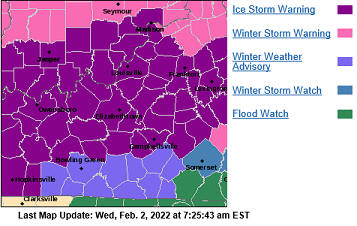 First issue now through Thursday morning is rain. Flooding could be come relevant.
Beginning Thursday morning, rain rate and temps will be key. Heavier rain will be less likely to freeze on elevated surfaces such as trees and power lines. The temperature not only indicates IF freezing occurs, but how QUICKLY it can occur once contacting a surface. That balance will be VERY important with regard to actual ice accumulation.
As colder air invades, our best hope would be to have a transition to sleet or snow more quickly. So, all things considered, if we see some sleet or pellet snow, you know the freezing layer of air at the ground surface extends higher into the atmosphere. The translation will still be a wintry mess, but less ice accumulation.
Wind is always a major component of ice storm effects and expectations. In this case, winds look to be breezy earlier in the day on Thursday but becoming calmer by late Thursday. Wind can help shake off water as ice develops but also greatly increases the likelihood of damage to trees and power lines once ice has accumulated. Winds will hopefully be a lower impact factor by the time any ice accumulation happens.
On the backside, there is varying forecast agreement of snow potential late Thursday into Friday morning. This forecast cycle hints at all of the precipitation moving out to the east/northeast more quickly than earlier forecast cycles.
Also, another key point is after-storm temperatures. Friday's high still look to be right at or slightly above freezing. Friday night is cold but Saturday is back up to above freezing. Yes, it will be cold but not a major blast of cold air. Melting of any accumulations should take place at a quicker rate on Friday and Saturday.
With all of the main points of discussion now made, here are the graphical forecast maps as released by the NWS Louisville office: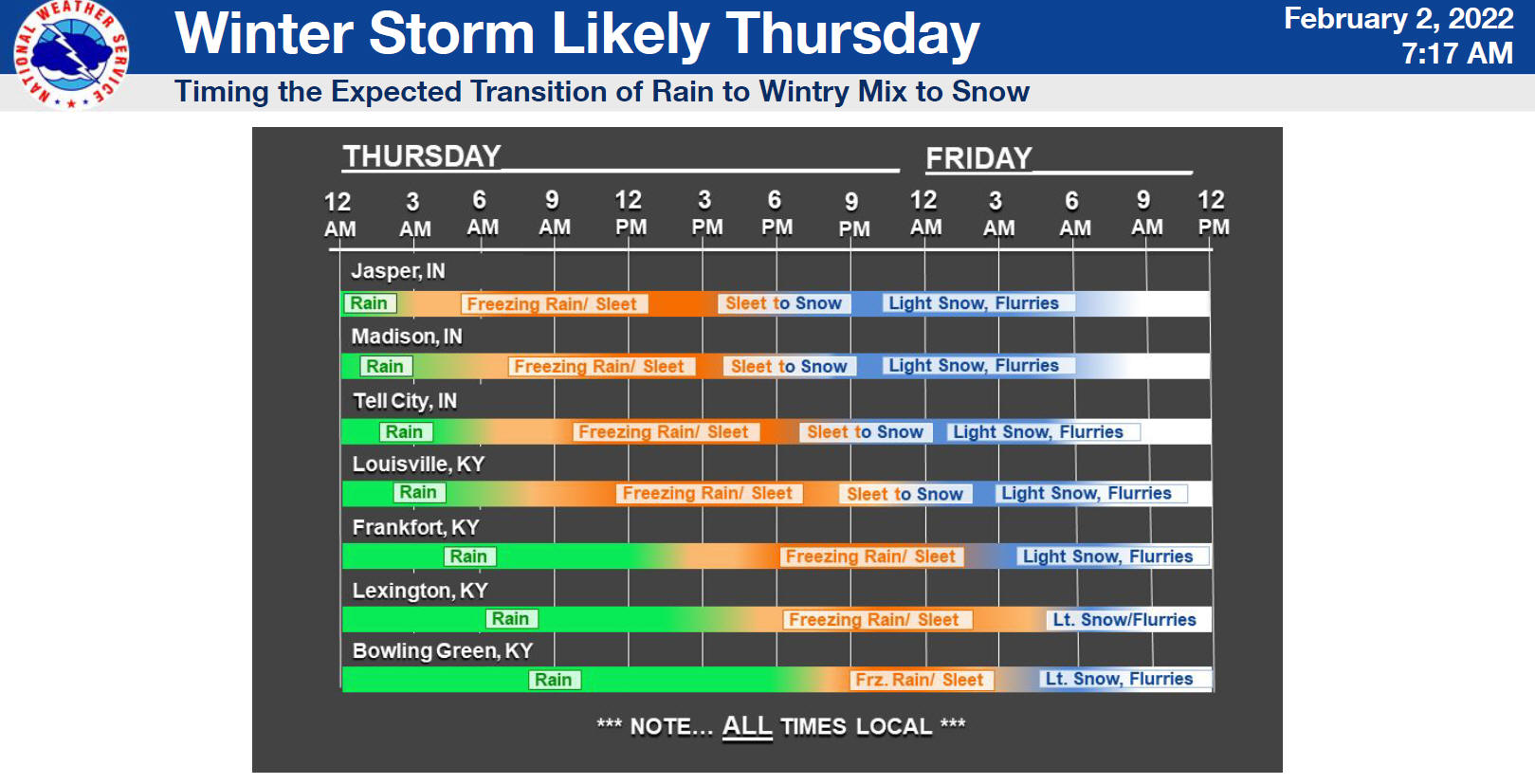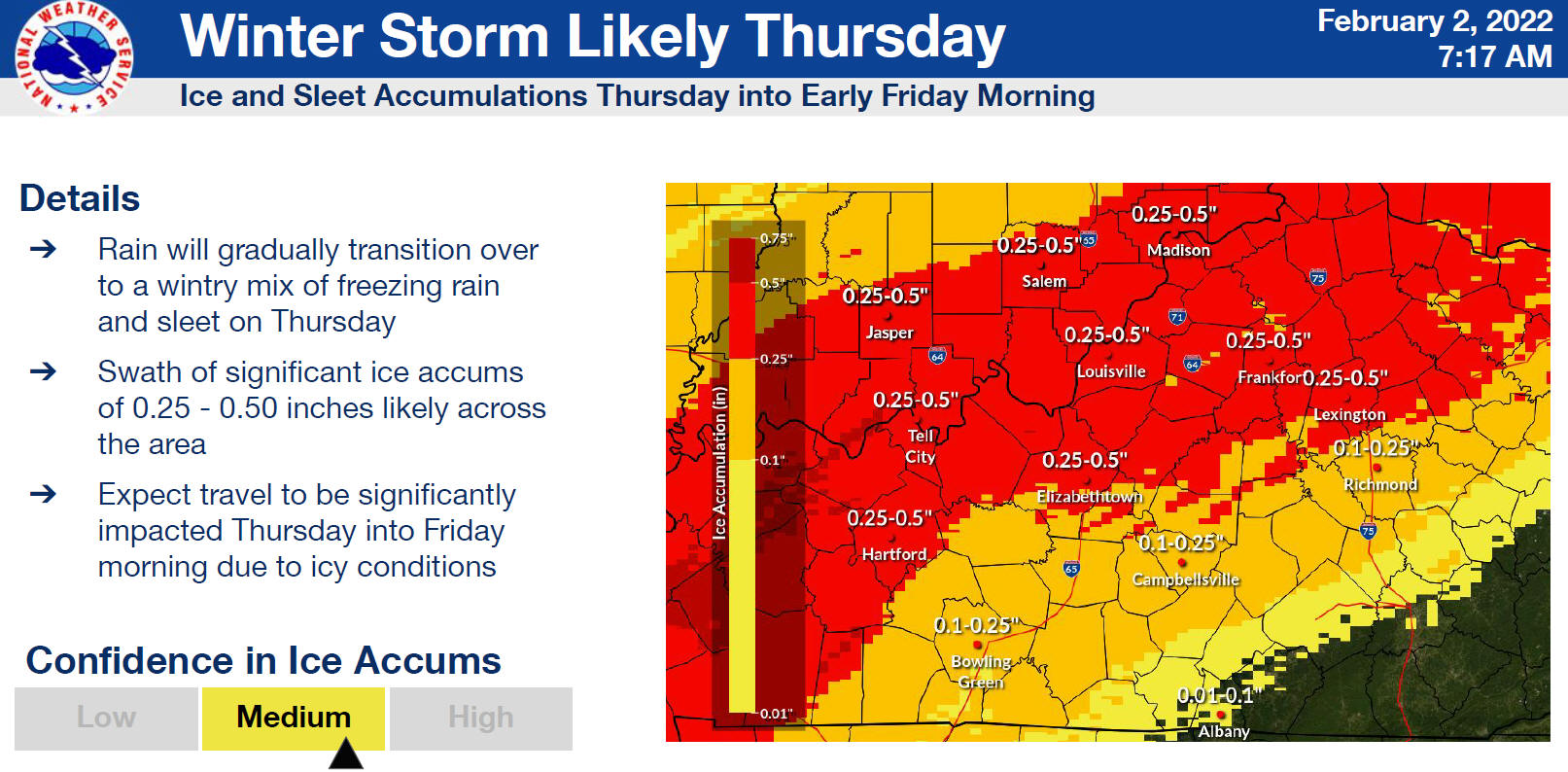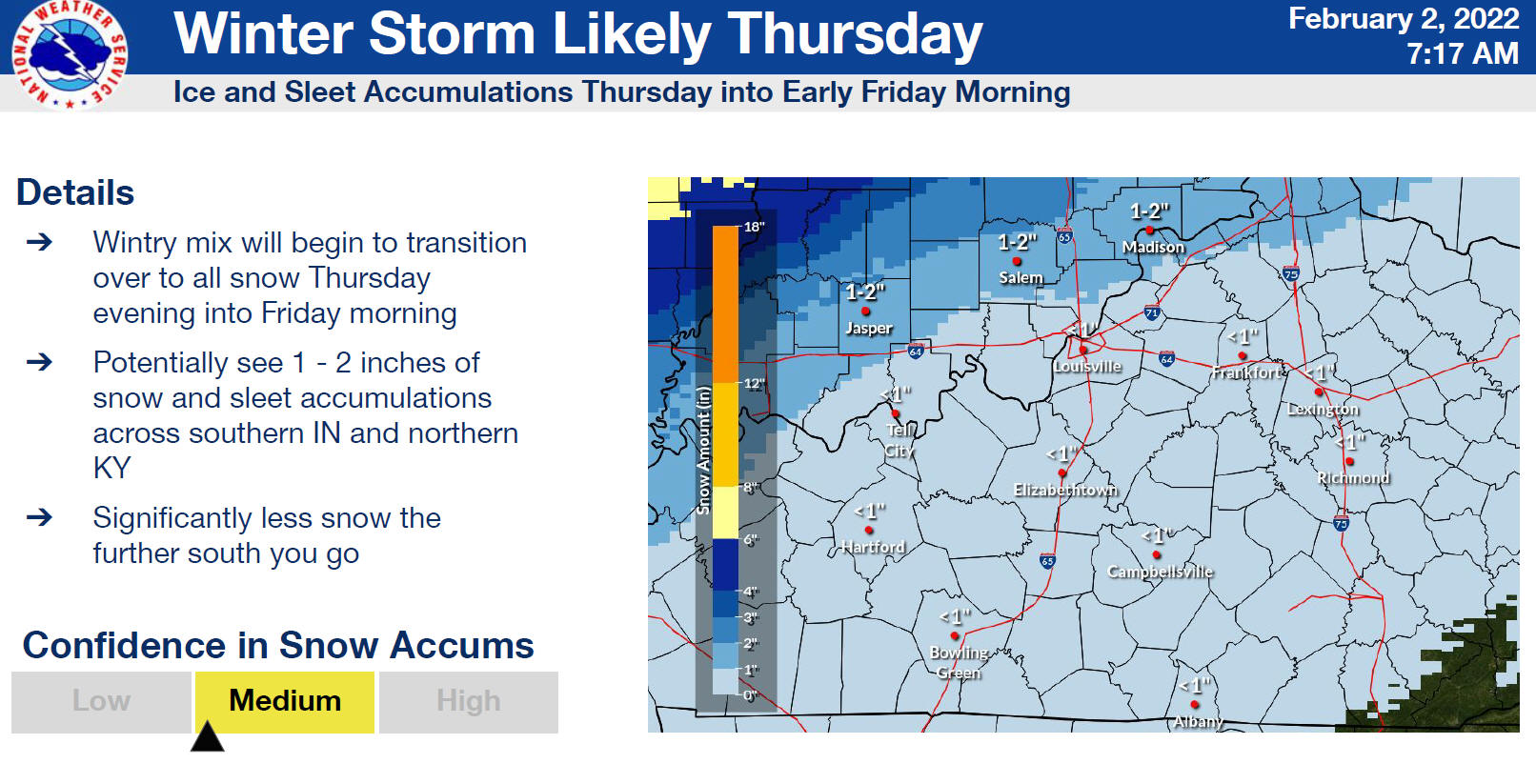 ...Updates coming throughout storm.
-Chris
6pm - Tuesday, January 18, 2022
Light rain during the day Wednesday will transition to snow Wednesday evening and continue through the night, tapering off early Thursday. Temperatures will drop to around 20 degrees by Thursday morning resulting in snowy/icy roads.
...WINTER WEATHER ADVISORY IN EFFECT FROM 7 PM EST /6 PM CST/WEDNESDAY TO 8 AM EST /7 AM CST/ THURSDAY...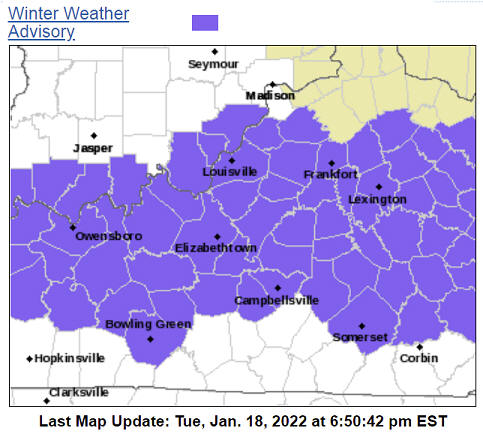 * Total snow accumulations of 1 to 3 inches.
* Southern Indiana and much of central Kentucky.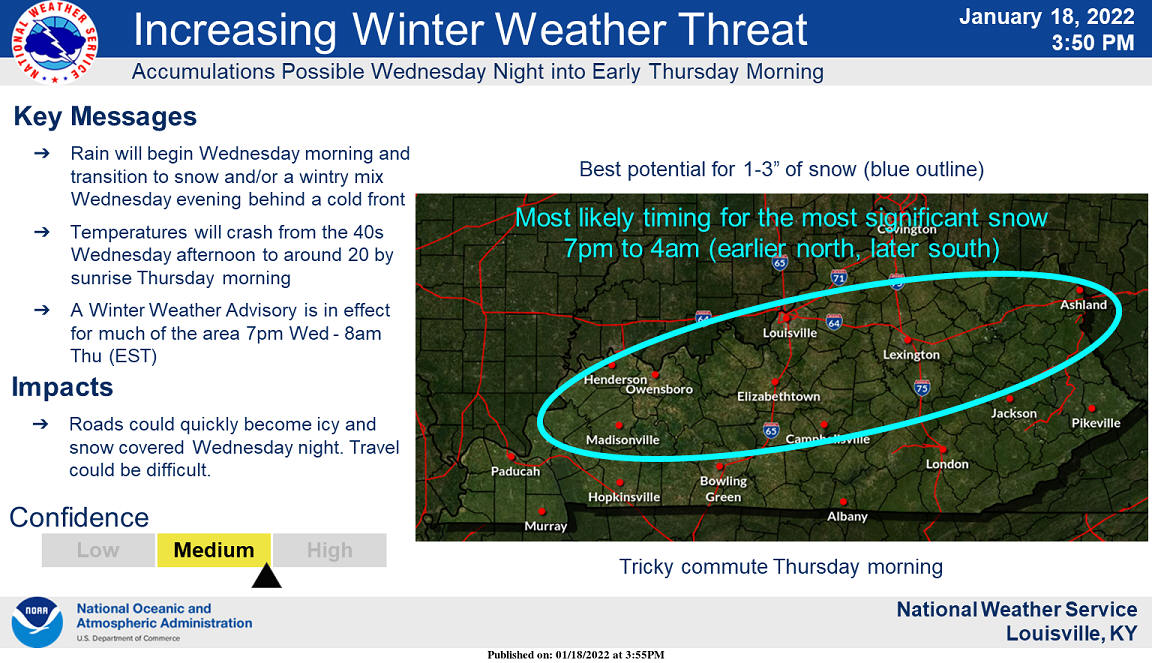 Forecast temperatures at the end of the week are expected to be much colder.

Roads... With rain on the front end, the opportunity for and effectiveness of pretreatments is reduced. Longer-lasting colder air on the backside of the event will make road clearing more difficult.
Wednesday updates in the forecast may shift the primary areas of focus north or south, slightly and may change anticipated accumulation amounts.
-Chris
7am - Monday, January 17, 2022
After this morning's shot of snow, crews are working as quickly as possible to treat roads. Most routes are covered. If you must travel, drive with patience, slow down and provide plenty of buffer space for stopping. Here's a current look at regional traffic flow from the goky.ky.gov website.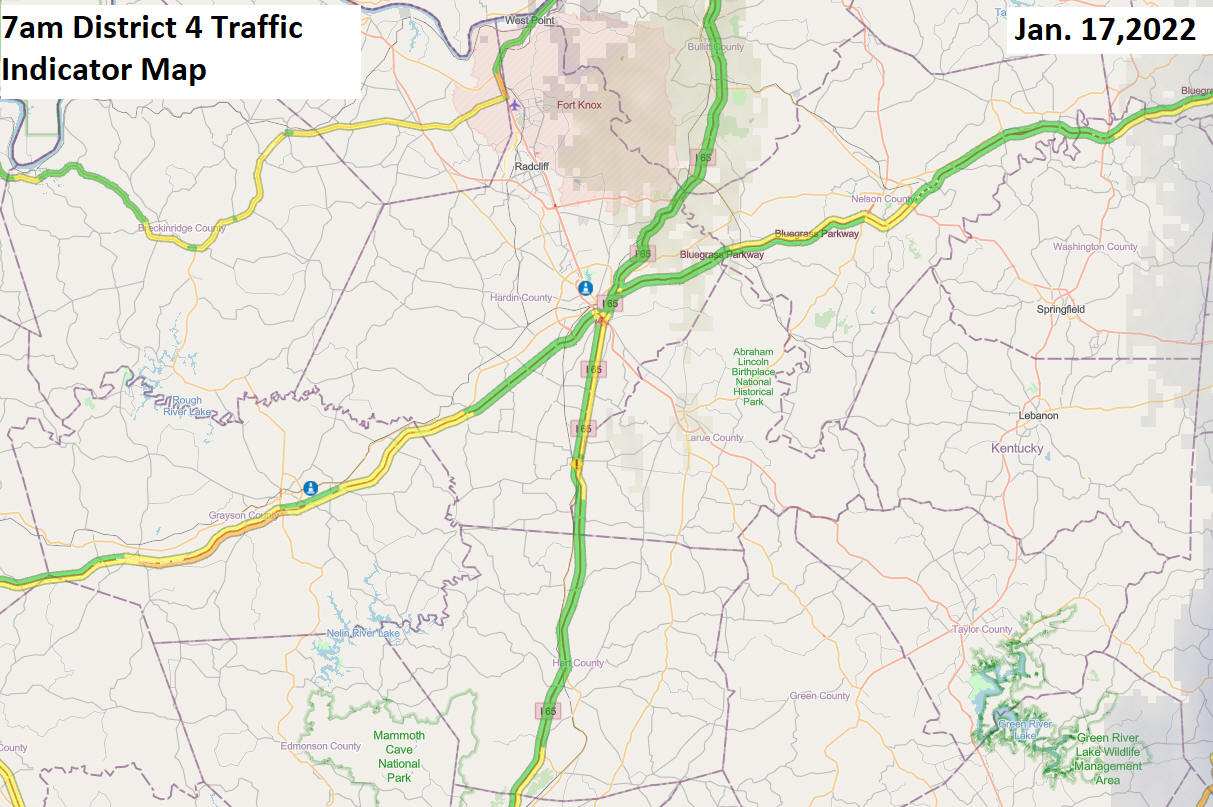 7pm - Sunday, January 16th, 2022
Should be all snow from here out.... the early morning/dawn-ish snow will be a cold low feature with a quick inch or even more, localized. Temps guidance is a couple degrees warmer overnight for lows. Lack of snowpack there. Still gonna be slick in places through morning. Will likely require services of counties spared so far... Breck/Meade/Grayson for the morning hit.
-Chris
11am – Saturday, January 15th, 2022
If you had a glance at radar early this morning, you may have noticed some light snow shower activity indicated. While some of that reached ground in places, most of it was consumed by dryer air at the surface. Point being there were no road issues to speak of overnight. Also, temps just didn't get that cold, locally. From last night: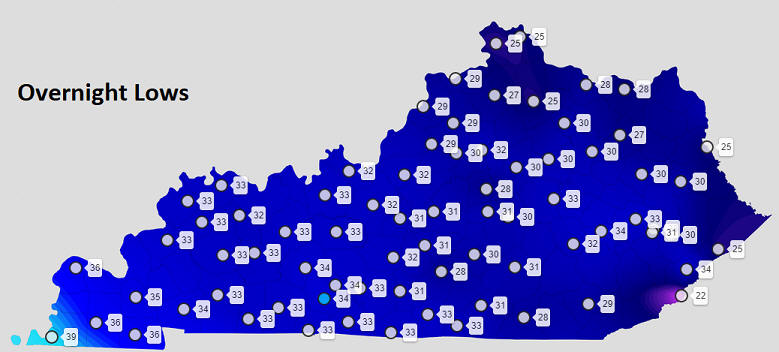 Today is expected to hit around 40 for the region. Road temps and ground temps are going to absorb that nicely. This is all good news heading into Sunday. As we've mentioned all along, this is not an extremely cold blast from the north. The southern tracking Low is just in a high potential setup to pull moisture in and stir it all around with just enough cold air diving south to make things really interesting... and complex. Snow showers creep in tonight from the south and west. On radar, Sunday, this stuff will not be moving like you are used to seeing it on radar. It will be morphing our direction as the low passes to the south.
The path of this thing (if it shifts from the current expectation) will still have a high forecast impact from northwest to southeast across our region. Soundings and model data are indicating more favorable conditions for the northern portion of the precip bands to contain more of a mix of sleet and snow early to mid Sunday. As we have discussed all along, overall storm totals could go from one extreme to the other over just a county or two distance. Current outlook for totals, which hasn't changed a lot from yesterday: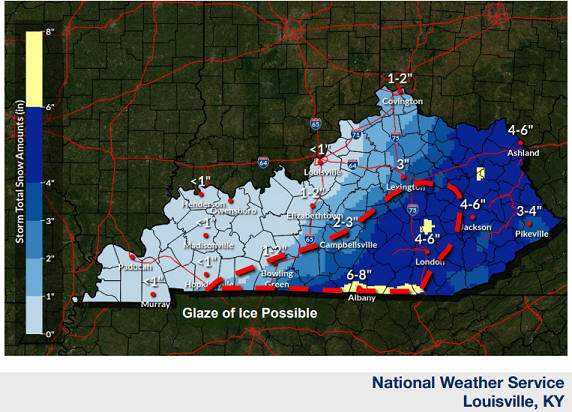 A couple of additional points... Wet snow. Heavy, wet snow. Slushy roads are the likelihood here, unlike last storm which had packed snow and an ice layer from such cold temps. All of precip should be mostly snow by late afternoon. Mix precip chances are highest late morning through about 2-3pm.
Many roads were pretreated earlier this week. This should help with colder temps on Sunday night diving into the lower 20s. Still, plowing and salt should be highly effective under the expected conditions.
Folks just east and south are expecting a bigger mess... from the Georgia/South Carolina corner up through Greenville and Asheville, toward Roanoke... impressive sleet/snow totals are in the forecast along that path of the eastern coast states.
Updates coming as warranted. NWS is doing a 4pm eastern conference call.
-Chris
11am – Friday, January 14th, 2022
Earlier this morning, the NWS posted a Winter Storm Watch for about half of the state, in a line from Bowling Green to Lexington: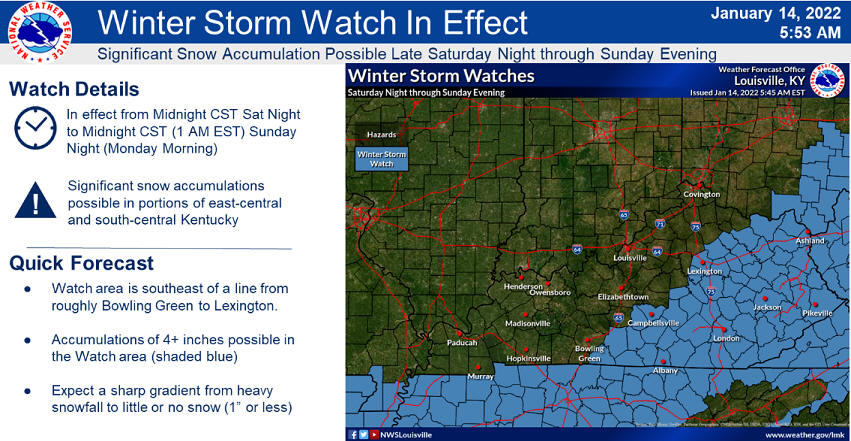 With all the hype this week based on model data, which most have seen posted on social media depicting extreme accumulation amounts, the actual (legitimate) forecast window is now in view, showing a more realistic outlook. This is the first forecast map with snow total estimates released through the Weather Service office: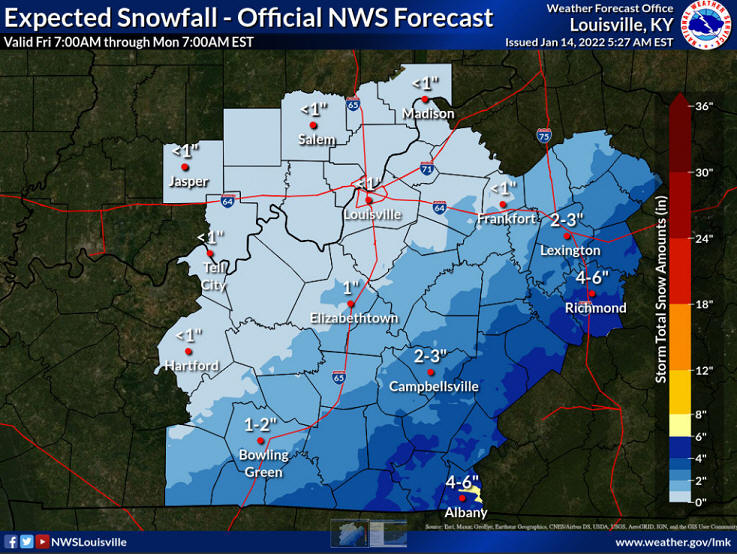 Models were all over the road until the tracking Low in the Texas region appeared on current observation maps overnight. This gives an actual reference point of the system rather than an estimate of where it had been "expected" to develop. Now the models can use the same reference point of an actual surface observation and expand from there. Current surface map... Cold air feature with the big star, tracking low with the smaller star and the region where they will phase/combine circled in pink. This helps with confidence regarding the track: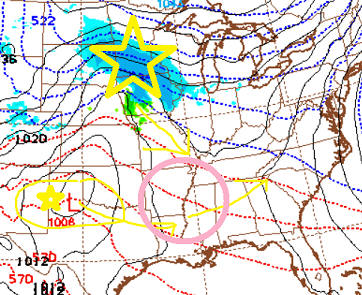 GFS and NAM models are showing pretty good consistency now: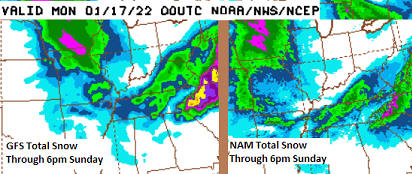 There is still wavering on how much moisture this thing taps into and pulls up. So, while the general location of precip is becoming more solid in the forecast, amounts are still likely to waiver over the next couple of forecast cycles.

Also, it is important as we look at impacts to roads, this is a relatively weak system with respect to cold air. Temps will likely get above freezing Saturday, around freezing Sunday and then above freezing Monday and Tuesday. Sunday night, lower 20s are possible but all-in-all this will be a manageable snow which shouldn't get too packed down on road surfaces.

NWS is doing a conference call this afternoon. An update will follow and we'll dive more into expected impacts.

-Chris
7pm – Sunday, January 9th, 2022

Rain moved out late afternoon and temperatures are dropping. There is a lot of talk a bout flash freezing and black ice. While not diminishing the call to drive carefully anytime there is rain/snow and temps below 32 in combination, widespread flash freezing and solid frozen roads are not likely. Temps fell through the upper 30s around nightfall and are now falling below 32 to our west... 7pm (central) temps: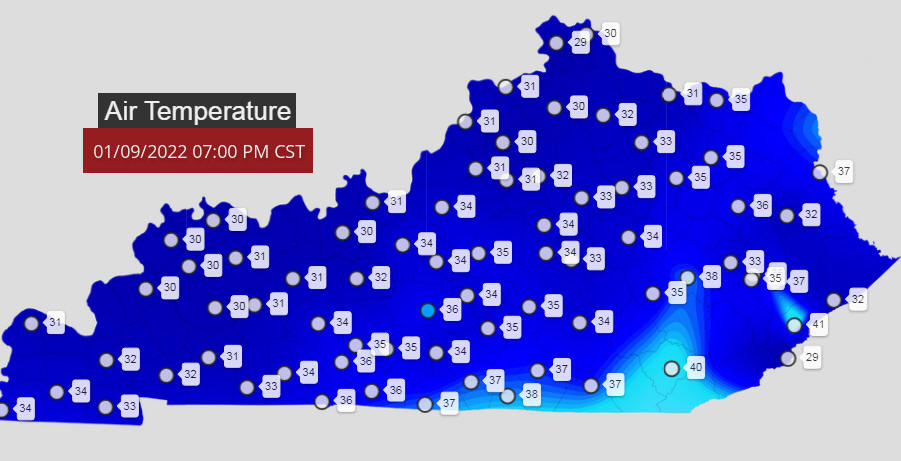 The reality is, temps are not crashing fast enough for flash freezing. Evaporation is occurring on roads, as most main routes (interstates, parkways and US routes) are now dry in the driving lanes. Here are current road temps: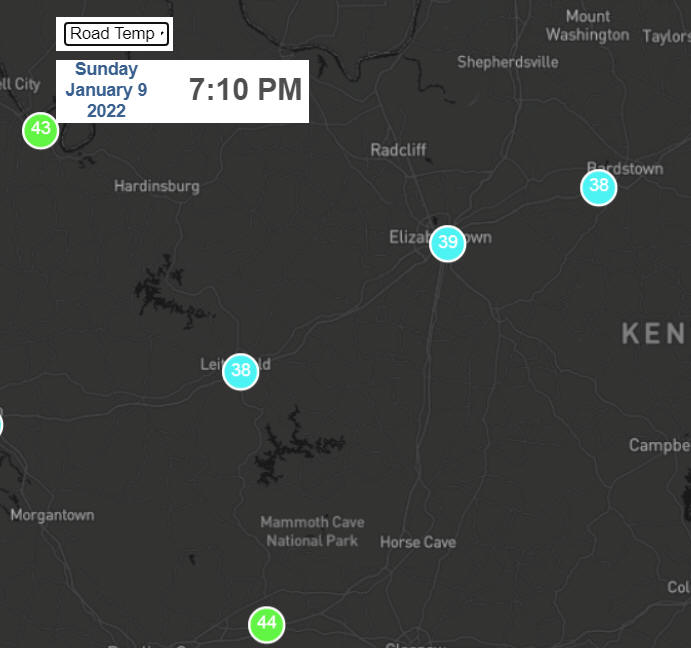 Again... This is not to diminish the call for caution, this is to be accurate. Main concerns in our region of the state are icy patches where puddled areas may freeze or areas where water is running across roadways from higher to lower elevations and not drying. Road crews are patrolling for needed spot treatments.
Anyone on the road should drive accordingly.
-Chris
1pm – Friday, January 7th, 2022

Densely packed layers of snow and ice are breaking down along higher volume routes such as interstates, parkways and US routes thanks to daytime heating from the sun. This has enabled snow and ice crews to plow effectively along these roads. A high treatment rate is also being applied behind plows to help roads remain liquid until drying takes place. These routes are expected to be in fair shape by this evening throughout the district but caution will still be needed as refreezing takes place, especially along areas where melting snow may trail from a high point to a lower point across a road.

Lower volume routes remain covered and are being plowed and heavily treated to allow daytime heating to take effect. Most of these roads will remain covered to partially covered through the remainder of today and overnight. Temperatures are expected to fall to extremely cold readings again which will prevent effectiveness of treatment. Crews will plow Saturday to continue clearing these routes.

Visit goky.ky.gov for state-wide road conditions.
-Chris

6am – Friday, January 7th, 2022

Nearly all roads in the region will remain covered and slick with compacted snow this morning until single-digit temperatures rise enough for salt and calcium treatments to become effective. State and local crews will continue plowing/treating throughout the day. Temps at 6am across the region... whew BG at 1*: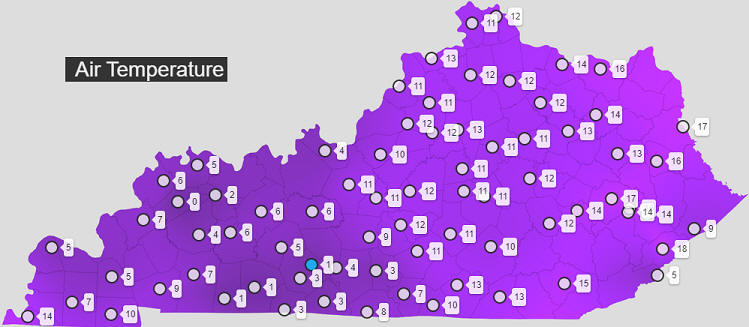 Citizens are reminded to not plow public roads with personal equipment and if cleaning driveways/parking lots, do not push snow into public roads.
Motorists are still advised to avoid travel. Interstates and parkways through the region are open but traffic is moving slow. Emergency response and towing resources continue to be in high demand.
Visit goky.ky.gov for state-wide road conditions. Our partners with law enforcement continue asking motorists not to call 911 or dispatch centers for travel conditions.
-Chris
3pm – Thursday, January 6th, 2022

Snow accums seem to be highest in a band from Leitchfield to Elizabethtown across the region with as much as 8" reported. Between 4-5" seems to be catching most of the remainder of the region with isolated higher spot totals.
Heavier snow rates will begin to taper off over the next couple of hours and skies will clear out by midnight with temps plunging into single digits. Roads will remain slick as crews plow down as far as they can and then apply salt and calcium treatments. WK Parkway is among the largest trouble spots for traffic incidents with a major pileup around MM 133, between Leitchfield and Elizabethtown. Bluegrass Parkway has also been a major trouble area around Bardstown. I-65 has moved nicely through most of the area, considering the snow rate with the exception of problems from Lebanon Junction and further north reported.
Avoid being on the road. Emergency response/towing operators are spread extremely thin. If you become stranded it will take a while for them to assist.
It's gonna be cold.
-Chris
6am – Thursday, January 6th, 2022

Snow trending earlier and accumulation forecasts have increased.
Temps are in the lower-mid 20s this morning. Some of what you see on radar is not reaching ground. Air is saturating down to the surface and then snow rates will increase. Here is the current scope: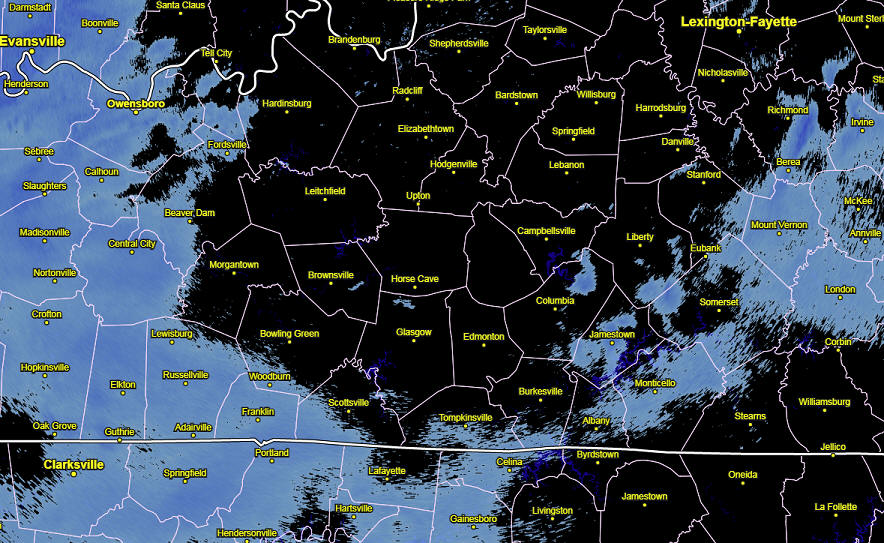 The Winter Storm Warning area is expanded (again) from the original issuance yesterday. As of now: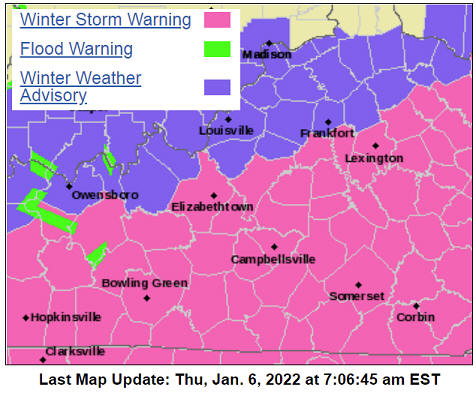 In a big picture... Everything I see says almost everywhere in our general area will be at the 4" accumulation range. There will likely be higher (even much higher) totals in paths where heavy snow bands train over. Here's the NWS official forecast map for accumulation: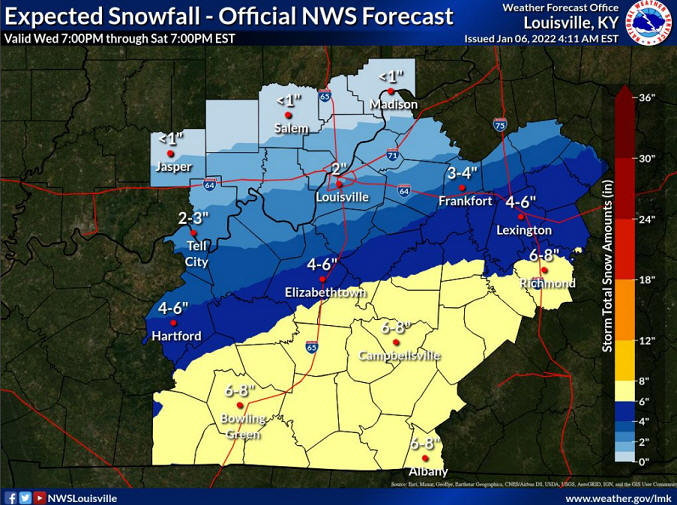 Now for road conditions... The snow and ice team from KYTC Districts 3 & 4 have been preparing the past couple of days in anticipation of this event. District crews have been pretreating priority routes with brine. With no rain ahead of anticipated snowfall, the forecast gives very cold weather following this storm event which makes this particular storm system an ideal situation to pretreat roads. Salt and liquid calcium chloride quantities are at capacity throughout the counties of the district. Planning is key. Motorists should be ready for winter driving conditions and use additional caution when in the vicinity of snow and ice removal vehicles.

Precip should be over before nightfall. As mentioned yesterday (see post below), snow and ice crews will be in a race with the clock and thermometer to get as much done before air and road temps push to equalize with lower single digits in the forecast overnight. With a heavy snowpack, I believe we could even be closer to 0 than the map indicates: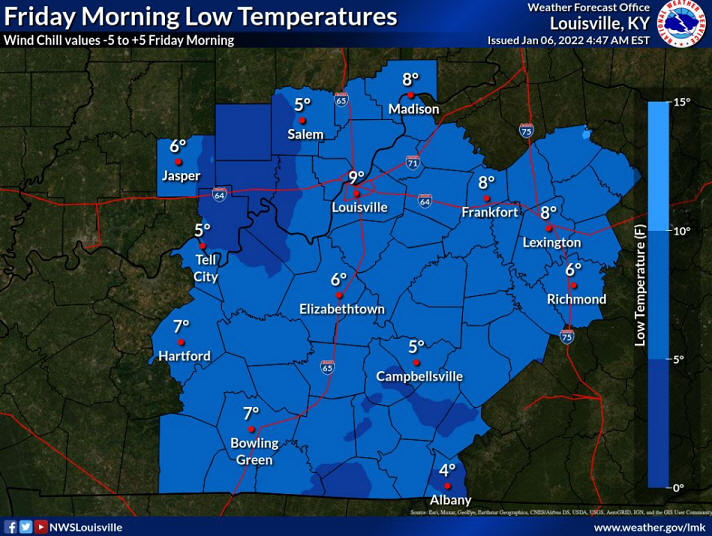 Visit @kytcdistrict3 for our southern counties and @kytcdistrict4 for our northern counties to get current conditions. Visit goky.ky.gov for statewide road conditions. Kentucky State Police will be busy and ready for the storm, too. They ask folks to use the KYTC resources and not call post or 911 for road conditions.
-Chris
2pm – Wednesday, January 5th, 2022

First off... National Weather Service warnings and advisories have been issued for Thursday into Thursday night: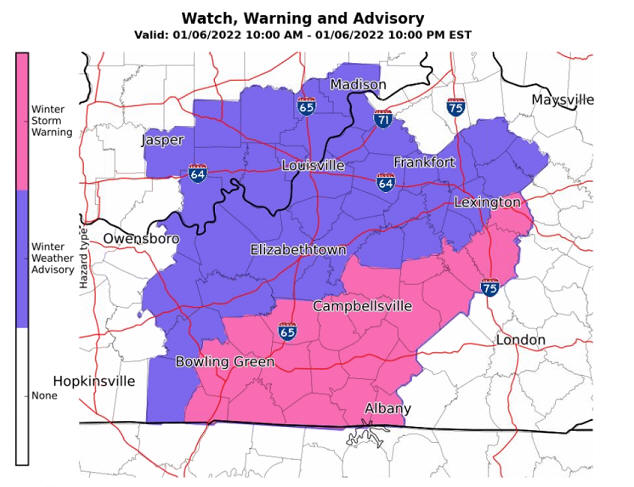 Forecast amounts for snow have increased a bit from the NWS previous estimates. Generally speaking, 2+ inches through the I-65 corridor with higher amounts east and southeast. Model consensus on timing seems to be advanced just a bit, with precip perhaps showing up before noon, even morning hours to the west/southwest. This could be favorable for road conditions Thursday night into Friday if the duration of snow doesn't drag on.
Here is info from the National Weather Service forecasters' conference call which just wrapped up: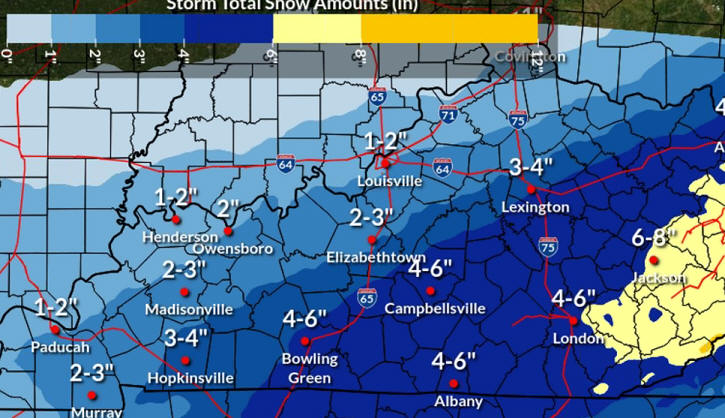 With respect to timing, road conditions will vary greatly depending on when heaviest snow rates occur. If that happens to be afternoon, the expected type of snow will be very wispy and blown easily by moving traffic. As wheel tracking occurs, slush develops in these conditions, even if air temperatures are just below freezing, pavement temperatures will be above freezing until the sun effect is gone for the day. If heavy snow rates persist, coverage occurs. Snow and ice crews then get in a race with the clock and thermometer. We want to get plowed down and then salted/calcium treated as quickly as possible before pavement temps plunge as they equalize with air temperatures. Once we get down into the forecast range of single digits, chemical treatments are no longer effective. When we can't get plowed down to pavement, snow compacts along with what has melted and refrozen. Compacted ice and snow results in extremely slick conditions. So again, timing and duration of precip is directly related to the level of difficulty in clearing roads.
Crews in all of our surrounding counties have been pretreating with brine yesterday and today. Hopefully, this helps them if/when plowing becomes necessary Thursday into the night.
Also remember... it's going to be COLD Thursday night. Expected lows: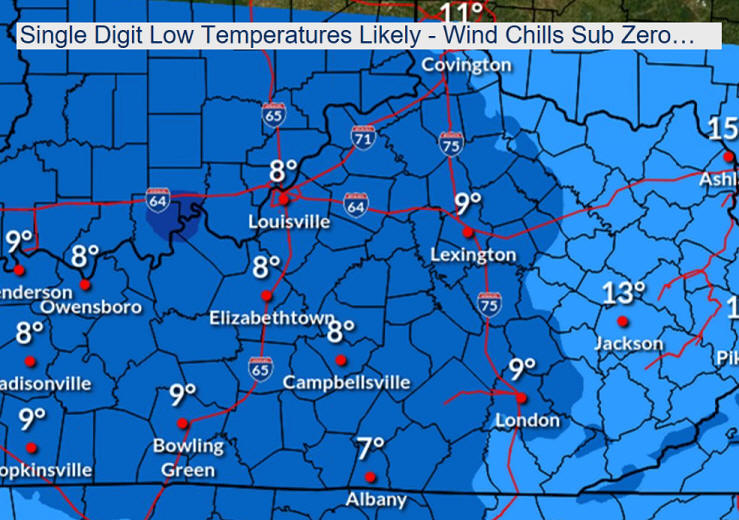 At this point, it is a waiting game. Just about everyone has a radar app. It's watch and be ready for snow and ice teams. For motorists, hopefully folks can get their day wrapped up and get home or other destinations before roads get tight.
For schools, this is going to be a tough call. It is very likely road conditions will deteriorate into the afternoon commute for much of the region. Early radar monitoring on Thursday will help verify timing of developing snow bands and perhaps provide better information for them to decide how to conduct transportation activities. Having to dismiss early vs. not going at all is a likely dilemma for decision makers. As mentioned, the trend is going earlier, so morning snow is not out of the question.
Updates coming early Thursday morning.
-Chris
2pm – Tuesday, January 4th, 2022
After seeing several data sets this afternoon, consensus remains for a good chance of accumulating snow Thursday/Thursday night. I would like to have seen better agreement in models on timing but there are still several inconsistencies on storm movement/development through the day on Thursday.
Still, we are looking at a light-moderate blanket of snow stretching from the plains through western Tennessee and up through Kentucky and the Ohio Valley. Here's a very basic outlook of total anticipated system snowfall through 6am Friday morning. A couple of factors to our south (development of a couple of lows and convergence of them) will play big here with respect to available moisture.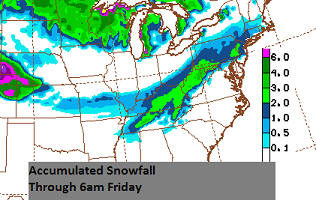 Again, timing is still in a large window at this point for areas along the I-65 corridor. Anywhere from late morning through early evening is still on the table for the highest snow potential.
We have plenty of cold air to work with here. That is a confident factor. We do not anticipate any liquid precip at this point in our district/region... that all stays south of us. From a road aspect, this is great setup for pre-treatments such as brine... No rain, snow, then REALLY cold on the back side of the system.
Pre-treatments will help solar action melt any snow falling through the day on Thursday (again, depending on timing). Pre-treatments will also assist some with helping break ice bonds to pavement as we get into Thursday night. With the plunging temps on the backside, packing of snow and layered ice is problematic when we receive a decent accumulation.

If we get a decent snowpack into Thursday night, current forecasts for lower teens will likely get into single digits, making most treatment options ineffective.
More details coming with forecasts updates. I'll have another outlook early Wednesday morning.
-Chris
6am – Tuesday, January 4th, 2022
Right off the bat... Our first significant threat of wintry weather for the district/region is approaching Thursday. Be aware WEATHER forecasts and ROAD forecasts are not equal. Two inches of snow at any given time can affect roads completely different than two inches of snow at another given time.
As always, post here will be specific (for our district/region) toward travel impacts not just forecasts.
All that said, timing will be very important Thursday as to how the approaching system affects travel. While there was little to no concern for road impacts over this past Sunday and Monday morning for our area because of extremely warm conditions, this round will follow a much colder preexisting setup.
A large swath of the state will likely receive accumulating snow sometime in the second half of the day on Thursday into Thursday evening. Forecast data later today should enable a better pinpoint looking forward over the next 72 hours.
I'll be sending out a post this afternoon with details details of current expectations.
-Chris